LOGOS Bible Software: Mobile Ed
Understand the importance of preaching biblical sermons, learn relevant steps of preparing a sermon including how to move from exegesis to exposition, and recognize important aspects of sermon presentation and delivery.
Appreciate the role of the Holy Spirit, prayer, and meditation in sermon preparation, and learn how to appreciate the narrative sections of Scripture and make the stories of the Bible relevant to your congregation.
Click here for more information.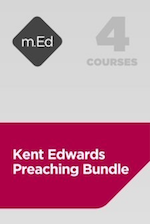 Regular price: $809.99
Pre-Publication price: $489.99